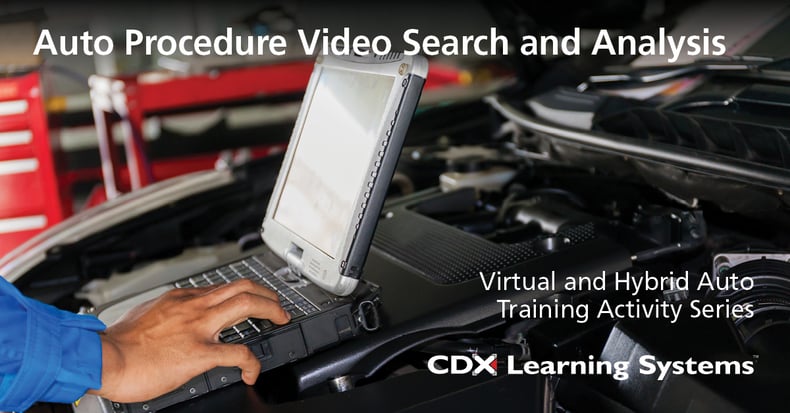 Struggling to come up with new and enriching content for hybrid automotive training or your virtual automotive classes?
We took the time to chat with CDX automotive training instructor and subject matter expert Lee Berger to hear about some of the creative ways he has been successfully running a hybrid classroom throughout this past year.
The biggest challenge in adapting to teaching virtually or implementing distance learning, Lee states, was "Trying to give [students] some kind of a meaningful shop or lab experience when they aren't physically here."
Tackling this challenge headfirst, Lee's approach was to provide his hybrid automotive classes with substitute activities and exercises that still give students application and real-world reference to automotive training material, just as an in-person shop or lab experience would.
The exercise below, created by Lee, is designed to support a virtual classroom, work in a hybrid auto training setting, or supplement an online auto training program.
Stay tuned for more exercises from this series, and click here to see them all.
---
Auto Procedure Video Search and Analysis
| | | | | |
| --- | --- | --- | --- | --- |
| Virtual Activity | Hybrid Classroom Friendly | Tools Used | Preparation | Grading |
| ✔ | ✔ | Google Slides | Adjust template to desired area of study | Score with rubric |
Assignment Format: Slide Show Document
Instructions
After any given lecture or lesson on specific auto procedures, students can show comprehension using this two-part exercise. Students will need to download and edit the slide document to complete this assignment.

Part A: Students should insert a link to a video that shows the procedure that is listed on the title of each slide. Videos can be found via YouTube or anywhere videos are hosted online. The video should show the proper procedure for each repair, so students must use their best judgement to choose a video where the procedure is done correctly.

Lee explains that this exercise results in a variety of submissions from students, and this is a great learning tool:

"Some of these procedures are going to be different from vehicle to vehicle. For example, with replacing a ball joint, different cars are going to have different setups- so even though the part has the same function, the process is going to be different from one model to another. This allows for some variation for the students to look at different things. In this one, I really wanted to capitalize on that variety available to students via the internet."

Part B: Next, the students will then pair up and share their slide documents and videos of choice with each other. After watching their partner's videos, students should comment on each to demonstrate that they watched the video and got something out of it.

Lee encourages students to analyze the other videos critically, asking, "Was it too fast? Too slow? Did you have to watch it a couple of times if it was confusing?"


Assessment
When students finish the assignment, they then share their edited document with the instructor (Set up a file submission assignment easily within CDX Online). Grading of this assignment can be based on students' overall understanding of the given procedures. Lee suggests using a simple rubric to score the activity, to check off if each video shows all the points of a procedure that it should show.
For an additional component to this assignment, instructors can opt to have students present their slides and videos to the instructor or class, either on video conferencing or in-person.
*The above template lists appropriate procedures for a Steering and Suspension unit, but can easily be modified to fit the desired areas of study.
---
Looking for more resources for your virtual automotive classes? Check out our Distance Learning Blog Series for downloadable exercises to share with your class.
Complete with robust online components, CDX Online is the perfect resource to implement digital instruction and apply remote learning solutions to your automotive training curriculum. To learn more about our resources for your classroom, click the option for Online Access on many of our product catalog pages below.
Please contact your CDX Account Manager to discuss adoption of CDX Online for your classroom today.